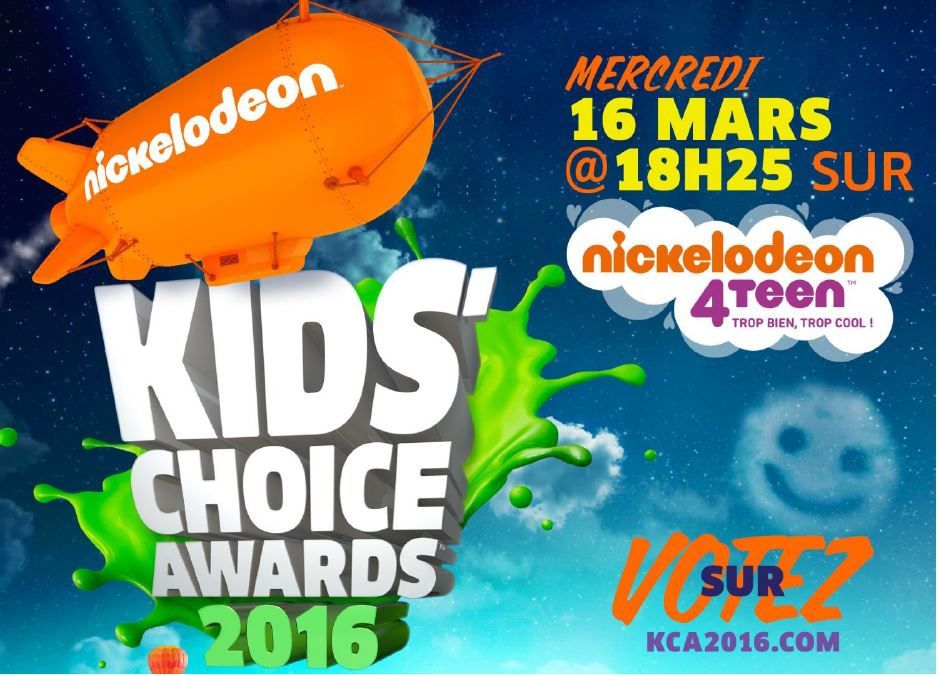 Les KIDS' CHOICE AWARDS, c'est une cérémonie déjantée où ce sont les enfants qui décernent les prix à leurs artistes préférés. La cérémonie sera présentée cette année par Blake Shelton. Diffusion française le 16 mars à 18h25 sur Nickelodeon 4 Teen.
Les votes viennent d'être ouverts. Parmi les catégories :
ARTISTE MUSICAL FRANCOPHONE
Black M
Fréro Delavega
Louane
Soprano
EMISSION TV FAMILIALE
Marvel's agents of S.H.I.E.LD.
Modern Family
One upon a time
The big bang theory
The Flash
The Muppets
ACTEUR SERIE FAMILIALE
Anthony Anderson
Ben McKenzie
Grant Gustin
Jim Parsons
Johnny Galecki
Rico Rodriguez
ACTRICE SERIE FAMILIALE
Chloe Bennet
Jennifer Morrison
Kaley Cuoco
Ming-Na Wen
Sarah Hyland
Sofia Vergara
TELE CROCHET
America's got talent
American Idol
Dance Moms
Dancing with the stars
The Voice
FILM
Ant-Man
Avengers : age of Ultron
Cinderella
Daddy's Home
Jurassic World
Pitch Perfect 2
Star Wars VII
The Hunger Games : Mockingjay partie 2.
FILM ANIME
Alvin & The Chipmunks : the road chip
Home
Hotel Transylvania 2
Inside out
Minions
The Peanuts Movie
DESSIN ANIME
Alvinnnn!!! and the Chipmunks
Gravity Falls
Ninjago
Phineas & Ferb
Bob l'éponge
Steven Universe
Teen Titans Go !
The amazing world of gumball
GROUPE MUSICAL
Fall Out Boy
Fifth Harmony
Imagine Dragons
Maroon 5
One Direction
Pentatonix
CHANTEUR
Blake Shelton
Drake
Ed Sheeran
Justin Bieber
Nick Jonas
The Weeknd
CHANTEUSE
Adele
Ariana Grande
Meghan Trainor
Nicki Minaj
Selena Gomez
Taylor Swift