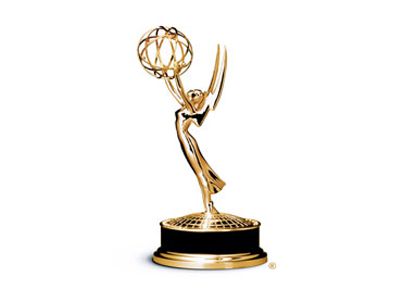 EDIT : résultats sur http://www.leblogtvnews.com/article-36322729-6.html



Dans la nuit de ce dimanche 20 au lundi 21 septembre, Série club propose en direct les Emmy Awards. En plus de la cérémonie, Série Club vous proposera de suivre le célèbre "Tapis rouge". Rendez-vous proposé dès une heure du matin .


Pour assurer les commentaires, Elsa Fayer et François-Pier Pelinard-Lambert.


Créés en 1949 par l'Academy of Television Arts & Sciences, les Emmy Awards récompensent chaque année les meilleurs programmes et acteurs de la télévision américaine. Cette 61eme édition sera présentée par l'acteur Neil Patrick Harris, le légendaire Barney Stinson de How I met your mother.



Voici une partie des catégories...



SERIE COMEDIE
"Entourage"
"Family Guy
"Flight of the Conchords"
"How I Met Your Mother"
"The Office"
"30 Rock"
"Weeds"


SERIE DRAMA
"Big Love"
"Breaking Bad"
"Damages"
"Dexter"
"House"
"Lost"
"Mad Men"


MINI SERIE
"Generation Kill" (HBO)
"Little Dorrit" (PBS)


ACTEUR DANS UNE COMEDIE
Alec Baldwin - "30 Rock" (NBC)
Steve Carell - "The Office" (NBC)
Jemaine Clement - "Flight Of The Conchords" (HBO)
Jim Parsons - "The Big Bang Theory" (CBS)
Tony Shalhoub - "Monk" (USA)
Charlie Sheen - "Two And A Half Men" (CBS)


ACTEUR DANS UN DRAMA
Simon Baker - "The Mentalist" (CBS)
Gabriel Byrne - "In Treatment" (HBO)
Bryan Cranston - "Breaking Bad" (AMC)
Michael C. Hall - "Dexter" (Showtime)
Jon Hamm - "Mad Men" (AMC)
Hugh Laurie - "House" (Fox)


ACTRICE DANS UNE COMEDIE
Christina Applegate - "Samantha Who?" (ABC)
Toni Collette - "United States Of Tara" (Showtime)
Tina Fey - "30 Rock" (NBC)
Julia Louis-Dreyfus - "The New Adventures Of Old Christine" (CBS)
Sarah Silverman - "The Sarah Silverman Program" (Comedy Central)
Mary-Louise Parker - "Weeds" (Showtime)


ACTRICE DANS UN DRAMA
Glenn Close - "Damages" (FX Networks)
Sally Field - "Brothers & Sisters" (ABC)
Holly Hunter - "Saving Grace" (TNT)
Mariska Hargitay - "Law & Order: Special Victims Unit" (NBC)
Kyra Sedgwick - "The Closer" (TNT)
Elisabeth Moss - "Mad Men" (AMC)



TELEFILM
"Coco Chanel" (Lifetime)
"Grey Gardens" (HBO)
"Into The Storm" (HBO)
"Prayers For Bobby" (Lifetime)
"Taking Chance" (HBO)



ACTEUR TELEFILM OU MINI SERIE
Kevin Klien - "Cyrano de Bergerac" ("Great Performances") (PBS)
Brendan Gleeson - "Into The Storm"(HBO)
Sir Ian McKellen - "King Lear" ("Great Performances") (PBS)
Kevin Bacon - "Taking Chance" (HBO)
Kiefer Sutherland - "24: Redemption" (Fox)
Kenneth Branagh - "Wallander: One Step Behind" (PBS)


ACTRICE TELEFILM OU MINI SERIE
Drew Barrymore - "Grey Gardens" (HBO)
Jessica Lange - "Grey Gardens" (HBO)
Shirley MacLaine - "Coco Chanel" (Lifetime)
Sigourney Weaver - "Prayers For Bobby" (Lifetime)
Chandra Wilson - "Accidental Friendship" (Hallmark Channel)


SECOND ROLE, ACTEUR COMEDIE
Jon Cryer - "Two And A Half Men" (CBS)
Kevin Dillon - "Entourage" (HBO)
Neil Patrick Harris - "How I Met Your Mother" (CBS)
Jack McBrayer - "30 Rock" (NBC)
Tracy Morgan - "30 Rock" (NBC)
Rainn Wilson - "The Office" (NBC)


2ND ROLE, ACTEUR DRAMA
Christian Clemenson - "Boston Legal" (ABC)
Michael Emerson - "Lost" (ABC)
William Hurt - "Damages" (FX Networks)
Aaron Paul - "Breaking Bad" (AMC)
William Shatner - "Boston Legal" (ABC)
John Slattery - "Mad Men" (AMC)


2ND ROLE, ACTRICE COMEDIE
Kristin Chenoweth - "Pushing Daisies" (ABC)
Jane Krakowski - "30 Rock" (NBC)
Elizabeth Perkins - "Weeds" (Showtime)
Amy Poehler - "Saturday Night Live" (NBC)
Kristen Wiig - "Saturday Night Live" (NBC)
Vanessa Williams - "Ugly Betty" (ABC)


2ND ROLE, ACTRICE DRAMA
Rose Byrne - "Damages" (FX Networks)
Hope Davis - "In Treatment" (HBO)
Cherry Jones - "24" (Fox)
Sandra Oh - "Grey's Anatomy" (ABC)
Dianne Wiest - "In Treatment"
Chandra Wilson - "Grey's Anatomy" (ABC)