La cérémonie des prestigieux Grammy Awards a eu lieu dans la nuit de ce dimanche à lundi, heure française, aux États-Unis. Avec plusieurs artistes français en lice : Jean-Michel Jarre, côté électro et le groupe Gojira pour le rock/metal (groupe superbement ignoré aux Victoires...).
Parmi les live attendus, ceux d'Adele, Cynthia Erivo & John Legend, Lady Gaga & Metallica, Demi Lovato, Lukas Graham, Bruno Mars, Katy Perry, Carrie Underwood & Keith Urban, The Weeknd avec Daft Punk.
Voici une partie des lauréats :
ENREGISTREMENT DE L'ANNEE
VAINQUEUR - Hello, Adele
Formation, Beyoncé
7 Years, Lukas Graham
Work, Rihanna Featuring Drake
Stressed Out, Twenty One Pilots
ALBUM
VAINQUEUR - 25, Adele
Lemonade, Beyoncé
Purpose, Justin Bieber
Views, Drake
A Sailor's Guide To Earth, Sturgill Simpson
CHANSON
Formation : de Khalif Brown, Asheton Hogan, Beyoncé Knowles & Michael L. Williams II (Beyoncé)
VAINQUEUR - Hello : de Adele Adkins & Greg Kurstin (Adele)
I Took A Pill In Ibiza (Mike Posner)
Love Yourself : de Justin Bieber, Benjamin Levin & Ed Sheeran (Justin Bieber)
7 Years : de Lukas Forchhammer, Stefan Forrest, Morten Pilegaard & Morten Ristorp (Lukas Graham)
REVELATION
Kelsea Ballerini
The Chainsmokers
Chance The Rapper
Maren Morris
Anderson
ALBUM POP
VAINQUEUR - 25, Adele
Purpose, Justin Bieber
Dangerous Woman, Ariana Grande
Confident, Demi Lovato
This Is Acting, Sia
ALBUM DANCE / ELECTRO
VAINQUEUR - Skin, Flume
Electronica 1: The Time, Machine Jean-Michel Jarre
Epoch, Tycho
Barbara, We Face A Shining Future, Underworld
Louie Vega - XXVIII, Louie Vega
CHANSON ROCK
VAINQUEUR - Blackstar, David Bowie,
Burn The Witch, Radiohead
Hardwired, Metallica
Heathens, Twenty One Pilots
My Name Is Human, Highly Suspect
ALBUM ROCK
California, Blink-182
VAINQUEUR - Tell Me I'm Pretty, Cage The Elephant
Magma, Gojira
Death Of A Bachelor, Panic! At The Disco
Weezer, Weezer
ALBUM MUSIQUE ALTERNATIVE
22, A Million, Bon Iver
VAINQUEUR - Blackstar, David Bowie
The Hope Six Demolition Project, PJ Harvey
Post Pop Depression, Iggy Pop
A Moon Shaped Pool, Radiohead
CHANSON R&B
Come See Me, PartyNextDoor Featuring Drake
Exchange, Bryson Tiller
Kiss It Better, Rihanna
VAINQUEUR - Lake By The Ocean, Maxwell
Luv, Tory Lanez
ALBUM URBAN
VAINQUEUR - Lemonade, Beyoncé
Ology, Gallant
We Are King, KING
Anti, Rihanna
Malibu, Anderson Paak
ALBUM R&B
In My Mind, BJ The Chicago Kid
VAINQUEUR - Lalah Hathaway Live, Lalah Hathaway
Portraits, Terrace Martin
Healing Season, Mint Condition
Smoove Jones, Mya
CHANSON RAP
All The Way Up (Fat Joe & Remy Ma Featuring French Montana & Infared)
Famous (Kanye West Featuring Rihanna)
VAINQUEUR - Hotline Bling (Drake)
No Problem (Chance The Rapper Featuring Lil Wayne & 2 Chainz)
The Rapper Ultralight (Kanye West Featuring Chance The Rapper, Kelly Price, Kirk Franklin & The-Dream)
ALBUM RAP
VAINQUEUR - Coloring Book, Chance The Rapper
And The Anonymous Nobody, De La Soul
Major Key, DJ Khaled
Views, Drake
Blank Face LP, ScHoolboy Q
ALBUM COUNTRY
Big Day In A Small Town, Brandy Clark
Full Circle, Loretta Lynn
Hero, Maren Morris
A Sailor's Guide To Earth, Sturgill Simpson
Ripcord, Keith Urban
ALBUM NEW AGE
Orogen, John Burke
Dark Sky Island, Enya
Inner Passion, Peter Kater & Tina Guo
Records, Rosetta Vangelis
VAINQUEUR - White Sun II, White Sun
ALBUM JAZZ VOCAL
Sound Of Red, René Marie
Upward Spiral Branford, Marsalis Quartet With Special Guest Kurt Elling
VAINQUEUR - Take Me To The Alley, Gregory Porter
Harlem On My Mind, Catherine Russell
The Sting Variations, The Tierney Sutton Band
ALBUM REGGAE
Sly & Robbie Presents... Reggae For Her Devin Di Dakta & J.L
Rose Petals, J Boog L
Ziggy Marley, Ziggy Marley
Everlasting, Raging Fyah
Falling Into Place, Rebelution
SOJA: Live In Virginia, SOJA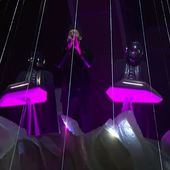 Le live de The Weeknd feat Daft Punk aux Grammy Awards (Vidéo). - Leblogtvnews.com
Les Daft Punk étaient sur scène dimanche soir aux États-Unis, lors de la prestigieuse cérémonie des Grammy Awards. Pas pour jouer un extrait d'un de leurs albums, mais pour accompagner The Wee...
http://www.leblogtvnews.com/2017/02/le-live-de-the-weeknd-feat-daft-punk-aux-grammy-awards-video.html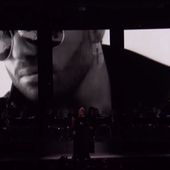 L'hommage très émouvant d'Adele à George Michael lors des Grammy Awards (Vidéo). - Leblogtvnews.com
Lors de la cérémonie des Grammy Awards 2017, Adele - grande gagnante de la soirée avec le défunt David Bowie - a rendu hommage à son compatriote George Michael. Une reprise du très beau Fast ...
http://www.leblogtvnews.com/2017/02/l-hommage-tres-emouvant-d-adele-a-george-michael-lors-des-grammy-awards-video.html