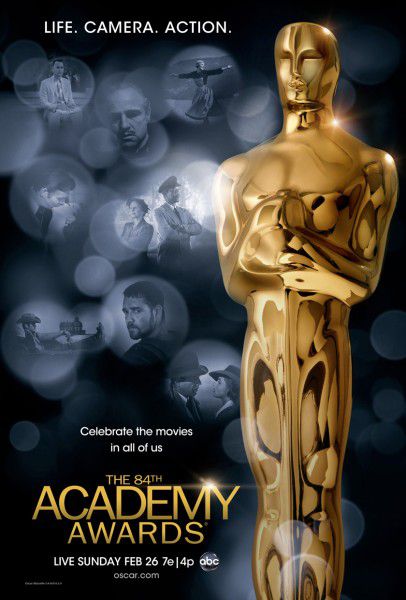 Via le quotidien 'Aujourd'hui en France' : Michel Denisot, après avoir assisté aux César vendredi, ira à Los Angeles pour la cérémonie des Oscars dimanche soir. Le lendemain, Le grand journal proposera un numéro spécial Oscars, avec un duplex de L.A. et avec l'équipe du film The Artist. Long-métrage qui a peu de chances de repartir bredouille...
Parmi les catégories, pour rappel :
FILM
The Artist
The Descendants
Extremely Loud & Incredibly Close
The Help
Hugo Graham
Midnight in Paris
Moneyball
The Tree of Life 
War Horse
COMEDIENNE
Glenn Close, Albert Nobbs
Viola Davis, The Help
Rooney Mara, The Girl with the Dragon Tattoo
Meryl Streep, The Iron Lady
Michelle Williams, My Week with Marilyn
COMEDIEN
Demián Bichir, A Better Life
George Clooney, The Descendants
Jean Dujardin, The Artist
Gary Oldman, Tinker Tailor Soldier Spy
Brad Pitt, Moneyball
SECONDS ROLES
Bérénice Bejo, The Artist
Jessica Chastain, The Help
Melissa McCarthy, Bridesmaids
Janet McTeer, Albert Nobbs
Octavia Spencer, The Help
...
Kenneth Branagh, My Week with Marilyn
Jonah Hill, Moneyball
Nick Nolte, Warrior
Christopher Plummer, Beginners
Max von Sydow, Extremely Loud & Incredibly Close
MISE EN SCENE
The Artist, Michel Hazanavicius
The Descendants, Alexander Payne
Hugo, Martin Scorsese
Midnight in Paris, Woody Allen
The Tree of Life, Terrence Malick
ADAPTATION SCENARIO
The Descendants,
Hugo
The Ides of March
Moneyball
Tinker Tailor Soldier Spy
SCENARIO ORIGINAL
The Artist
Bridesmaids
Margin Call
Midnight in Paris
A Separation
FILM EN LANGUE ETRANGERE
Bullhead ; Belgique
Footnote ; Israel
In Darkness ; Pologne
Monsieur Lazhar ; Canada
A Separation ; Iran
ANIMATION
Cat in Paris, Alain Gagnol et Jean-Loup Felicioli
Chico & Rita,
Kung Fu Panda 2
Puss in Boots
Rango 
COSTUMES
Anonymous : Lisy Christl
The Artist : Mark Bridges
Hugo : Sandy Powell
Jane Eyre : Michael O'Connor
W.E. : Arianne Phillips
MUSIQUE ORIGINALE
The Adventures of Tintin, John Williams
The Artist, Ludovic Bource
Hugo, Howard Shore
Tinker Tailor Soldier, Spy Alberto Iglesias
War Horse, John Williams
EFFETS SPECIAUX
Harry Potter and the Deathly Hallows Part 2
Hugo
Real Steel Erik Nash,
Rise of the Planet of the Apes
Transformers: Dark of the Moon
RETROUVEZ-NOUS SUR CE COMPTE TWITTER.
LISTE DES 40 DERNIERS ARTICLES.