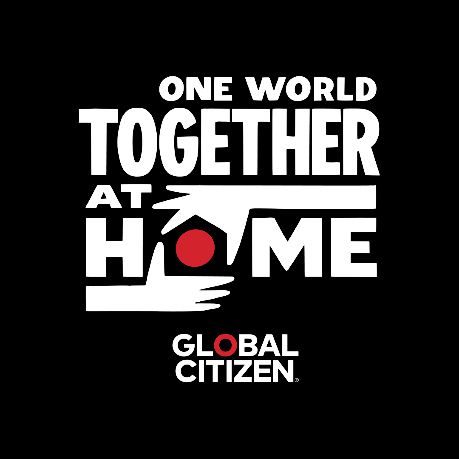 Lancé par l'organisation internationale de défense des droits Global Citizen et l'Organisation mondiale de la santé, One world : Together At Home entendait montrer l'unité de toutes les personnes touchées par la COVID-19, célébrer et soutenir le courage du personnel de santé qui fait un travail vital en première ligne.
Organisé en collaboration avec Lady Gaga, One World : Together At Home proposeait des prestations artistique et des apparitions. Un événement retransmis par plusieurs diffuseurs en France, dont le groupe France Télévisions (également sur CStar & W9).
Parmi les participants qui étaient attendus :
The Rolling Stones
Alicia Keys,
Amy Poehler,
Andrea Bocelli,
Awkwafina,
Billie Eilish,
Billie Joe Armstrong of Green Day,
Burna Boy,
Camila Cabello,
Céline Dion,
Chris Martin,
David & Victoria Beckham,
Eddie Vedder,
Ellen DeGeneres,
Elton John,
Idris and Sabrina Elba,
J Balvin,
Jennifer Lopez,
John Legend,
Kacey Musgraves,
Keith Urban,
Kerry Washington,
Lady Gaga
Lang Lang,
Lizzo,
LL COOL J,
Lupita Nyong'o,
Maluma,
Matthew McConaughey,
Oprah Winfrey,
Paul McCartney,
Pharrell Williams,
Priyanka Chopra Jonas,
Sam Smith,
Shah Rukh Khan,
Shawn Mendes,
Stevie Wonder,
Taylor Swift,
Usher.
Adam Lambert,
Andra Day,

Angèle,

Anitta,
Annie Lennox,
Becky G,
Ben Platt,
Billy Ray Cyrus,
Black Coffee,
Bridget Moynahan,
Burna Boy,
Cassper Nyovest,
Charlie Puth,

Christine and the Queens,

Common,
Connie Britton,
Danai Gurira,
Delta Goodrem,
Don Cheadle,
Eason Chan,
Ellie Goulding,
Erin Richards,
FINNEAS,
Heidi Klum,
Hozier,
Hussain Al Jasmi,
Jack Black,
Jacky Cheung,
Jack Johnson,
Jameela Jamil,
James McAvoy,
Jason Segel,
Jennifer Hudson,
Jess Glynne,
Jessie J,
Jessie Reyez,
John Legend,
Juanes,
Kesha,
Lady Antebellum,
Leslie Odom Jr.,
Lewis Hamilton,
Liam Payne,
Lili Reinhart,
Lilly Singh,
Lindsey Vonn,
Lisa Mishra,
Lola Lennox,
Luis Fonsi,
Maren Morris,
Matt Bomer,
Megan Rapinoe,
Michael Bublé,
Milky Chance,
Naomi Osaka,
Natti Natasha,
Niall Horan,
Nomzamo Mbatha,
P.K. Subban,
Picture This,
Rita Ora,
Samuel L Jackson,
Sarah Jessica Parker,
Sebastián Yatra,
Sheryl Crow,
Sho Madjozi,
SOFI TUKKER,
SuperM,
The Killers,
Tim Gunn,
Vishal Mishra,
Zucchero.
Extraits :
The greatest living musician pays tribute to health care workers.

Thank you, Sir Paul McCartney. 👏👏#TogetherAtHome pic.twitter.com/w8XRPzPz9y

— Austin Kellerman (@AustinKellerman) April 19, 2020
この母娘共演に朝から感動した😭
アニー・レノックス相変わらず素敵だなぁ☺️大好きな曲 #TogetherAtHome pic.twitter.com/8Vietl27qv

— 環 ゆら (@mihoyura) April 19, 2020
🤘 If you start us up, we'll never stop fighting for global health. Take action with The @RollingStones: https://t.co/26xVXSb0qy #TogetherAtHome pic.twitter.com/Dpze2tNyCW

— Global Citizen (@GlblCtzn) April 19, 2020
Heroes on the frontlines, this song is for you ❤️ Join @Eltonofficial in thanking frontline workers for protecting our communities during the pandemic. Do your part to help stop the spread of COVID-19 at https://t.co/26xVXSb0qy. #TogetherAtHome pic.twitter.com/WeClpDwwWs

— Global Citizen (@GlblCtzn) April 19, 2020
.@LadyGaga, @CelineDion, @AndreaBocelli, @Lang_Lang, and @JohnLegend's incredible One World: #TogetherAtHome final performance will leave you speechless. Join us as we all unite as a global community against COVID-19: https://t.co/26xVXSb0qy pic.twitter.com/AfC2b6u8ZK

— Global Citizen (@GlblCtzn) April 19, 2020
.@LadyGaga reminds us to "smile" and be compassionate toward one another during these difficult times. Watch her incredible performance for One World: #TogetherAtHome and do your part to fight COVID-19 by taking the pledge to stay home: https://t.co/26xVXSb0qy. pic.twitter.com/01jWBBpexI

— Global Citizen (@GlblCtzn) April 19, 2020
Are we out of the woods? Not exactly, but we can all do our part to help each other get through the coronavirus pandemic #TogetherAtHome. You can take action with @TaylorSwift13 to support @WHO, frontline health care workers, and everyday heroes here: https://t.co/26xVXSb0qy pic.twitter.com/mTm1EaHTw0

— Global Citizen (@GlblCtzn) April 19, 2020
The duet of our dreams 😍 Thank you @JohnLegend and @SamSmith for this incredible performance! Join them and take a stand for global health today: https://t.co/26xVXSb0qy pic.twitter.com/uy9FIBH1mm

— Global Citizen (@GlblCtzn) April 19, 2020
Goosebumps. @ShawnMendes and @Camila_Cabello showed their support for global health during One World: #TogetherAtHome. Take action against COVID-19 here: https://t.co/26xVXSb0qy. pic.twitter.com/ZAIfmU3itM

— Global Citizen (@GlblCtzn) April 19, 2020